روایت چندگانه از اعتراض فعال بریتانیایی دگرباشان در قطر
دولت قطر می گوید اتهاماتی که پیتر تاچل مطرح کرده بی اساس است.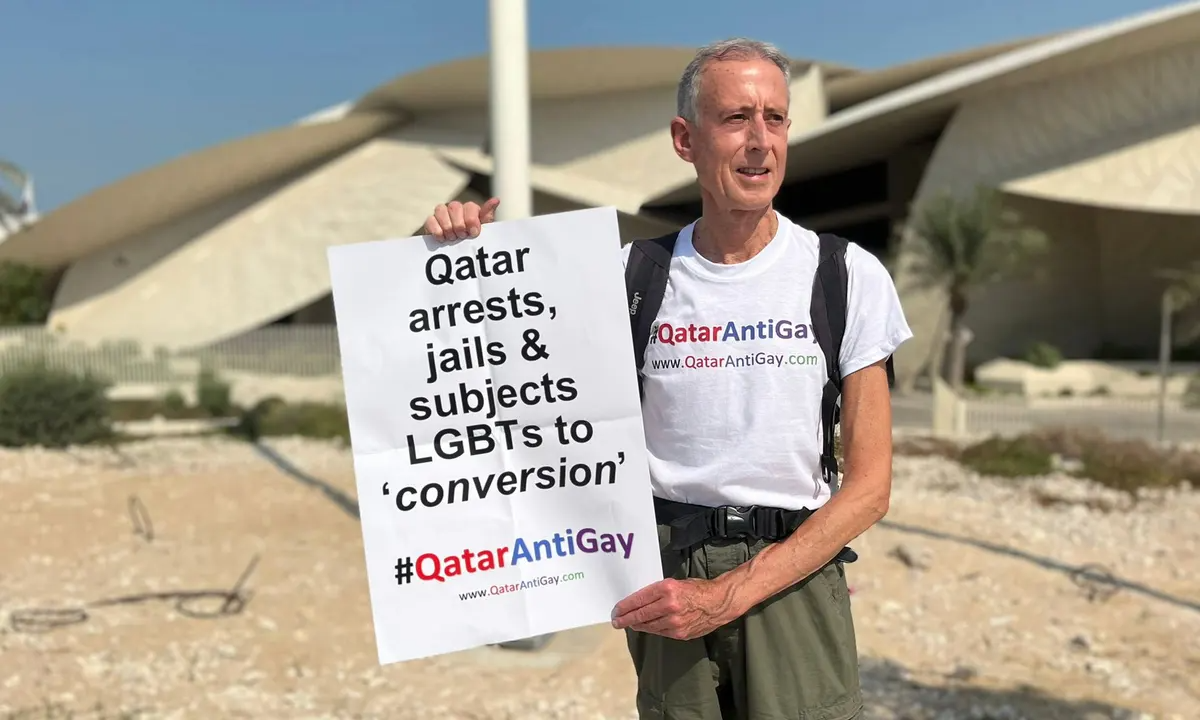 British activist Peter Tatchell has claimed that local police stopped and arrested him as he was protesting alone in the Qatari capital of Al Doha this past Tuesday. Tatchell further alleges his protest was of historical importance claiming his was "the first LGBT+ protest in the homophobic Gulf state."
In a video statement on Twitter, Tatchell briefly explained his account of the events. "I staged my protest on the main road outside of the National Museum of Qatar for 35 minutes before state security arrived followed up by police. I was arrested and detained for 49 minutes, and subjected to interrogation about where I was from, where I was going, but I have now been released," he said.
Another video posted by Tatchell, however, showed a more calm exchange between him and a uniformed officer. In the video, the officer approaches Tatchell and converses briefly with him. He then folds up Tatchell's protest sign and subsequently walks away. There was no indication from this video that Tatchell was in danger of being arrested.
In an interview with the BBC, Tatchell said he and his colleague "were not free to leave" nor were they "free to continue the protest." He continued, "Eventually we were told very clearly it was in our interest to leave the country as soon as convenient."
Tatchell, who staged a similar protest during the 2018 World Cup in Russia, stood for more than an hour on the main road in the Qatari capital, wearing a T-shirt that read "#Qatarantigay" and carrying a banner with the words, "Qatar arrests, jails and subjects LGBT+ to conversion."
A statement by the Qatari government denied that the activist had been arrested, calling his allegations "completely false and without merit." The statement also said, "An individual standing in a traffic roundabout was cordially and professionally asked to move to the sidewalk."
Immediately after the alleged arrest, Tatchell left Qatar and flew to Sydney, Australia. Human rights groups and many on social media took Tatchell at his word and rallied to denounce "the arrest."
When asked about Tatchell's protest and allegations of arrest, Mohammed, a 30-year-old Saudi activist, told که: "Tatchell's attempt to appear as a warrior of Arab LGBT rights, and the focusing in the tweets on the fact that this protest is the first of its kind in a Gulf state is a pathetic play, most of Western activists trying to portray themselves as our guardians, while Tatchell left Qatar within half an hour after a brief conversation with a police officer, including greetings between them."
"My friends and I received that footage and our first question was what would have happened if a young Arab gay had stood up with the same banner, and we talked at length about our concerns from what Western activists would do during World Cup trying to gain the limelight," Mohammed continued.
The Qatari government seems to be relaxing their laws and regulations when dealing with LGBT people of the west. In a move to seem more LGBT-friendly, the government invited a British Drag Queen to the capital city of Al Doha to attend the events in the state.
In response, the Qatari religious communities launched a social media campaign using the hashtag #Reflect _Your _Respect. They are calling on western visitors to respect the Qatari Islamic culture. The campaign has received quite a bit of support.