An encounter with a sex worker in Damascus
A traffic light Cinderella awaits her ten dollar princes.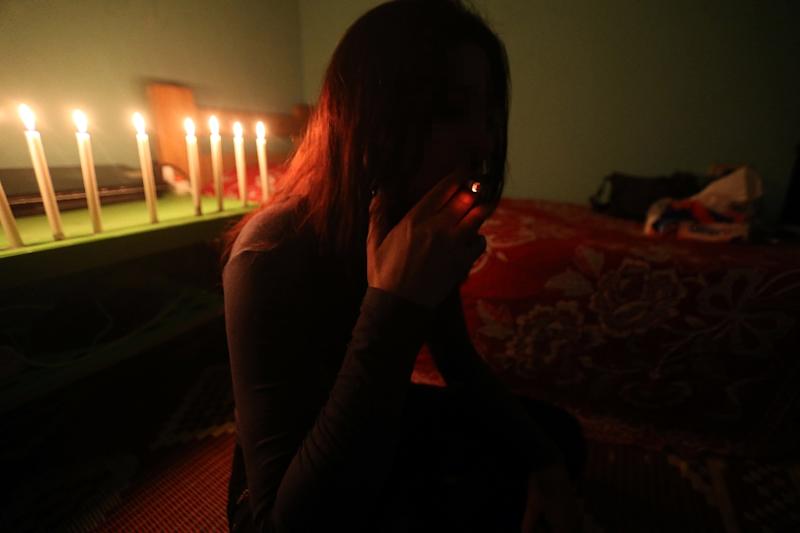 On a cold winter evening, around midnight, the street lights in southern Damascus aren't working. A few cars cross every now and then but otherwise the streets are completely empty. On the other side of the road stands a beautiful, lonely blonde girl with a cigarette in her hand. When she finishes one, she takes out another.
This is Noura, a transgender sex worker living in Damascus. She's in her 20s. I met her at the door of a bar in Damascus, when the guards didn't allow her to enter because of her gender expression. "This is a respectable place, go away from here," one of the guards said as he kicked her out. I decided to cancel my reservation in that bar and go with Noura.
"This is very common here, it is not the first time, fools!" Noura shouted at the doorman after I tried to calm her.
"I'm getting in harder situations, you know? I went once into the supermarket to buy water, everything was usual, until they heard my voice indicating my biological sex, they kicked me out! What is the relation between water and my voice? I'm not shocked. My parents didn't accept me, so why would I ask others to respect me?" she says.
I ask Noura if she'd like to have a drink after I canceled my schedule with my friends at that bar.
"I don't advise you! I'm widely known here. You're going to be defamed. But if you're insistent, we can go to that park. The lights are off, no one's going to see you with me," Noura says.
We took two bottles of beer and went to the spot Noura recommended. She was very quiet, strayed, without making any eye contact she says, "They treat us like we're monsters and robbers. I stand in this frost for hours, to find someone to have sex with me all night only for $10. That's the amount of money they pay for a meal in a restaurant."
Syrian law criminalizes sex workers, and transgenders are punished with imprisonment for imitating women.
"My parents kicked me out of the house after they found women's clothes in my bag. I tried to explain that I don't feel like a man, but how can a traditional family allow this?" she says.
"Guess what? Despite the tragic life I'm living now, I'm glad that I don't have to play the role of a man." She has breast implants, which she says she got from a private clinic. "Sexual transition needs a lot of money. Maybe I'll find a rich man on day who covers the operation," she says with a smile.
I ask her about her work, and if she uses any methods for sexually transmitted disease prevention.
She bursts out laughing. "Prevention? You know nothing. Once I get in the car, I don't have the right to talk. They don't care about those things. They think it reduces their sexual lust."
Strange, those emotions. She was laughing and grieving at the same time. Her body movements were very quiet.
Are you having problems with the police? I asked. 
"Definitely. When the checkpoints ask me about my ID, the sex is recorded as male, however  there is a sexy blonde girl in front of them. A march of investigations and ridicule begins. The soldiers meet and start to insult. Once they are done, they take my money and let me leave. That's why I always try to walk in the sub-streets to avoid passing by."
"I saw a report on sex workers in a Western country. It's protected by law. If it was in our country, I would have thrown a lot of men in prison. Just because I wasn't good at sex, they started beating me up and refused giving me the money. I can't file a complaint. I'm the one who's going to be jailed!"
Her movements suddenly become confused. "It's 12:00, Cinderella has to catch up with her work, the traffic light, and the $10 princes are waiting for me."
Noura went with her blond hair and bright lipstick to that traffic light in Jarmana, southern Damascus. I continue to watch her. Every once in a while, a passing car stands in front of her, she advances to the window and begins negotiating with the driver. Often the agreement fails, and she climbs up the pavement again, taking her lipstick out of the bag. It looks like the red color gives her the warmth and strength to continue.