American gay media tried to mock us, here is our response.
For the American Democrats and the administration, the story of our death is 'repetitive.'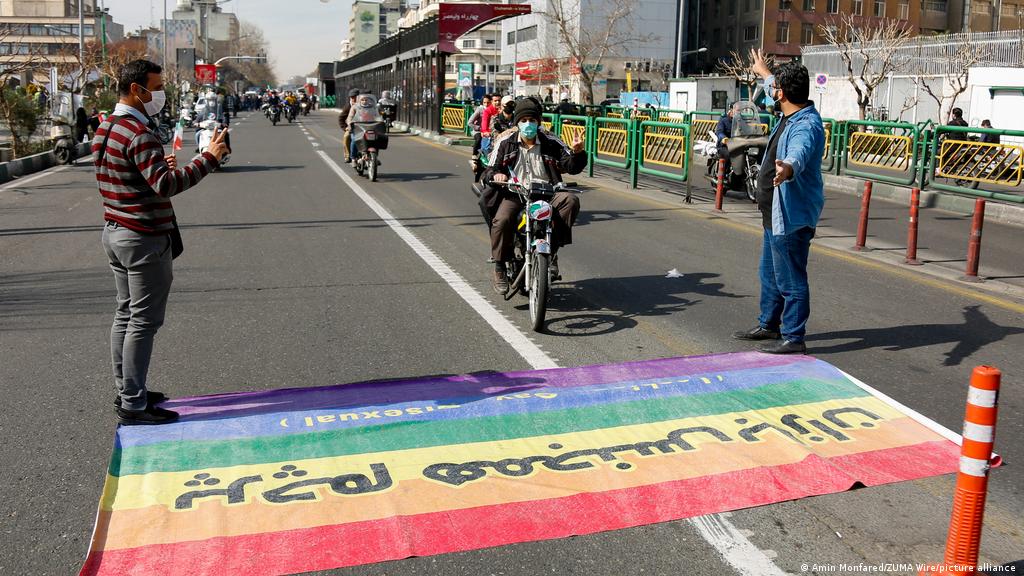 This article has been translated into English from Farsi.
In an article about Outspoken Middle East, the online magazine LGBTQNation criticized this newly launched campaign for LGBTQ rights in the Middle East.
As a part of the article, LGBTQNation editor-in-chief Bil Browning called our content "repeated stories" told many times. His report also criticized us for discussing LGBT issues in the Middle East instead of LGBT problems in the United States. They have accused us of using the matter for "our political purposes."
We translated the LGBTQNation article to show to a group of LGBT Iranian and Afghan people for their opinion.
From Afganistan
I realized how distant the journalist was from the reality of our lives in Afghanistan. The part of the article in which our plight as Afghan LGBT people was called "repetitious stories previously reported by mass media," I thought to myself how much a so-called activist group like LGBTQNation could be so unaware of what is going on in our lives.
While we are struggling with death every day, while 95% of the Afghan people do not have enough food to eat, girls and women are not allowed to study and work, while the Afghan LGBTQI community, in addition to all these problems, we are counting down until a Taliban soldier beats us at home and kills us with a shotgun, LGBTQNation considers it its only duty to publish one single article, and nothing more. For the American Democrats and the administration, the "story" of our death is "repetitive."
As a gay journalist, I do not dare to leave the house, and from the window of my house, I see a group of Taliban fighters patrolling the streets.
I sent the translated article to Gulnabi, a transgender woman from Herat, who wrote back to me: "I felt that I am not human by reading this article. At least in the eyes of the authors of that article, I am not human. While the Democrats are negotiating with the Taliban and Thomas West, Biden's Special envoy, travelled to Pakistan today to meet with the Taliban foreign minister, a Taliban spokesman told the media that LGBT people are being treated in the country within what he called 'Sharia laws.'"
Rainbow Railroad, A Canadian NGO involved in evacuating Afghan LGBTQ activists, released a statement last week that the Taliban has a list of LGBT people in the country and is hunting them down.
"Does it matter to Joe Biden's Special Envoy or the LGBTQNation?" Golnabi asked. "They are meeting with the Taliban. The group which openly says that they are killing us?"
Marzieh is a lesbian in Kabul. Just the day the Taliban occupied Kabul, she married a gay friend for fear of her life.
"Pictures of one of our gay friends who was severely beaten by Taliban fighters are being circulated on social media," she wrote to me. "Of course, this Democrat media platform does not publish it because the story of our death of Afghan LGBT people is not 'news' for them." 
"What difference does it make to me who is a Democrat or a Republican?" Marzieh asked. "I'm not an American. Whoever gives voice to me, whoever cares about my rights and situation, is my friend. The Democrats showed how much they care about us. We are living what they created for us!"
"What this magazine calls a repetitive story is our life," Shoaib, a gay man and Marzieh's husband, says. "Democrats saw our lives as a recurring story, got tired and left. We are human. We breathe like you. It's shameful. This is exactly what Joe Biden did. He came to power in a rainbow sheen and threw us in the trash. I wish one of these Biden supporters would come to Kabul only once, for one day, and see why it is essential that the story of our lives be told every day and every hour in the world."
"We are both unemployed. We do not dare to leave the house. We did not receive a salary. We have been eating only bread for the past couple of days. Every morning that I wake up, I think that is the last day of my life! The LGBTQ community is small, and we know each other. If they arrest one of us, they will find the rest," he says.
"Our friends got lost, or sleep in the streets, or fled. What did we want from the world? We just wanted to be allowed to breathe, which Mr. Biden took away from us."
From Iran
The situation is no better in Iran. While the Islamic regime in Iran is one of the few governments in the world to execute homosexuals, U.S.-led Western governments have focused on a deal that focuses solely on the Iranian leaders' nuclear program. The U.S. administration ignored thousands of political prisoners, thousands of executions, the repression of women, religious minorities, and the violated rights of LGBT people.
The U.S. administration has fallen into the same trap set by the Iranian government. The Islamic government was well aware that in order to divert the attention of the international community from the widespread human rights violations in the country, they need to start a new game to draw all the attention to it. That new game is the mullahs' nuclear program.
And they have their best ally in power: Joe Biden!
He wants to settle the Iran issue "on paper" and, at best, build a country like Saudi Arabia for the U.S. where the violation of LGBT rights is generally forgotten.
From Tehran, in a meeting with a group of LGBT people living in the Iranian capital, we discussed the LGBTQNation article and the U.S. position with the Iranian regime.
Several months have passed since Ibrahim Reisi came to power. He is titled the "butcher of Tehran" by Iranians. For reasons that probably do not matter to American Democrats, if they did know him, they probably would not have negotiated with him. He is accused of having sentenced at least 5,000 political prisoners to death in the 1980s and being personally involved in executions. Many executed political prisoners identified themselves as Muslims, and the only reason for their execution was the political differences with the revolutionary government of Ayatollah Khomeini.
The same butcher has become the president of a country led by the extremist supreme leader Ali Khamenei. In their eyes, we are not only political opponents but also infidels and non-Muslims. We are adulterers. We have no right, and we must die. Of course, for the author of the LGBTQNation article, this is a "repetitive story."
I am sitting in the heart of Tehran with Alireza, a gay man, Shabnam, a lesbian, and Shohreh, who is transgender. I read to them the article published in one of the most advanced countries in the world and its view of us in the Middle East. I must say that now that I am sitting next to them, everyone is outraged.
"The most annoying part of the article for me was that the magazine's claim that Republicans in the United States intended to use the newly launched campaign for political gain," Alireza says. "When Biden wrapped himself in a rainbow flag, that was not seen as political abuse of people?"
"But when a group wants to defend the rights of LGBTQI people in suppressed societies like Iran, is it pursuing political goals? How exactly? They may have forgotten that I do not have the right to vote in the U.S. election in Tehran," he says.
"They use human rights for political purposes and then forget about human rights for their political purposes," says Shabnam, 20. "Now, during the negotiations with Ebrahim Reisi, the rights of LGBT people and women in Iran are raised? Or is it in Biden's interest to forget?"
Shohreh also says that "I, as an Iranian transgender, am suffering from the first day of my life. I do not remember a good day in this life. I was always marginalized. A group of like-minded people has been found who at least hear our voices and speak directly to us. Why is this bad?"
Almost on the same day the LGBTQNation article came out, unconfirmed reports of the execution of two LGBT men in Iran was published on several media platforms. The Times of Israel reports that two men, aged 25 and 33, were executed in Iran because they were in love. Although Outspoken Middle East cannot confirm this news independently, such an event is not at all unlikely in Iran.
Also, last week, Israeli media reported that Iranian government-backed groups had hacked the data based on an LGBT dating website in Israel.
For the past 42 years since the Islamic regime came to power in Iran, the targeting of LGBT citizens by the government or society who do not hide their hatred has been repeated every day. Outspoken Middle East wants to record and report the violations of LGBTQI rights, the same things that Democrats call a repetitive story.